We serve the following counties in Pennsylvania: Chester, Bucks, Delaware, Philadelphia, and Montgomery
We serve the following counties in New Jersey: Ocean, Cape May, Salem, Gloucester, Burlington, and Camden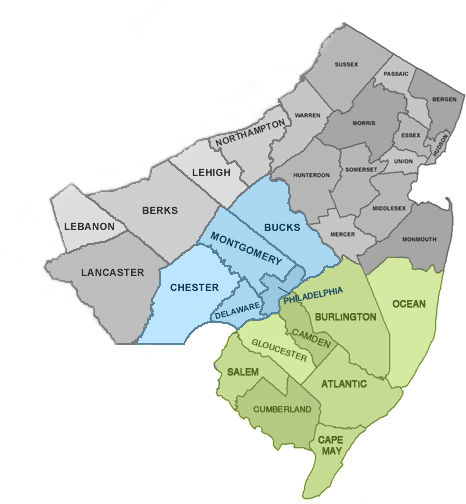 Pennsylvania residents, scheduling an appointment with a mold removal specialist is the first step toward a mold free environment. Eco Tech Mold employees are well-trained professionals with experience in mold remediation in the Philadelphia metro and suburb regions. It is very important to catch and remove mold from your home or business as early as possible. The earlier the mold is removed, the earlier you and your family will avoid the health risks and other serious problems to your home caused by mold contamination. This is true for your business and employees, as well.
Our experts in the Philadelphia area will conduct a thorough examination and provide advice for remediation free of charge. We can answer all of your questions and address any concerns you may have about why mold occurs, mold sampling procedures, our mold removal processes, mold prevention for the future, health risks caused by mold, different types of mold, and more.
If our professionals find mold in your home, we can safely and thoroughly remediate the contaminated areas with non-toxic chemicals. To begin your mold removal process, fill out the form below to schedule an appointment in the Philadelphia area. Eco Tech Mold professionals are ready to help and will contact you soon.
Feel free to give us a call at 833-277-3100.