Commercial and Residential Mold Removal in NJ & PA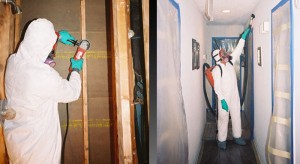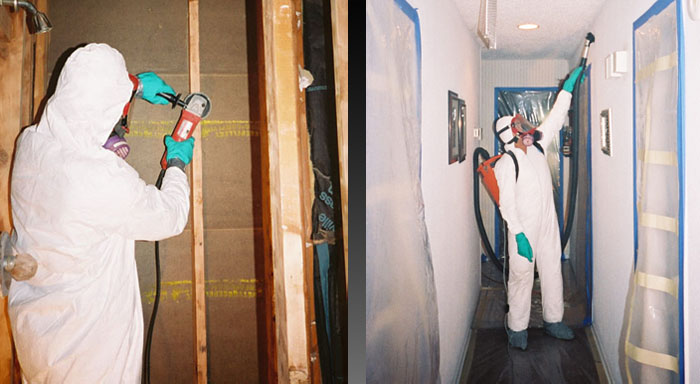 We've all heard about the dangers of mold, but did you know that there are methods you can undertake to keep it from growing and spreading in your home or office? Mold becomes a problem, then, only when it has grown to a level that only a professional should deal with. Working with mold contamination involves many precise steps and practices, none of which should be performed by a person unskilled in mold inspection and removal.
After a thorough mold inspection to determine where mold exists and how much there is, Eco Tech's trained technicians begin the remediation process.
Protective clothing and equipment
Because we know how mold can negatively affect the health of humans, step one is to ensure the safety of our technicians. We do this by providing them with protective clothing, gloves, face shields and respirators. Which of these items they wear depends on the level of mold contamination and the nature of the contaminated area. No two projects are alike, but total protection is the goal with every one.
Sealing off the work area
It's critical that we completely seal off the contaminated area to prevent harmful mold spores from escaping into other, unprotected areas of the home or workplace. To do this, we place high-grade poly sheets across all vents and doorways. As a further precaution, we use negative air machines to reduce the chances of airborne mold escaping and contaminating other areas. All of this is important because any time we work with and around mold, cross-contamination can easily happen if safeguards aren't in place.
Ventilation and air filtering
Going even further to protect our technicians and others who may be in the general area of the contaminated space, we use air scrubbers to clean the air. Air scrubbers suck in air and clean it with HEPA filters. The air being pulled into the scrubbers travels at 500 cubic feet per minute, allowing for the air in the work area to be completely filtered twenty times a day during our mold removal work.
High-tech vacuuming process
We use advanced HEPA vacuums that are fitted with filters capable of targeting the smallest mold particles on surfaces and safely removing them. Our technicians carefully vacuum every surface within the contaminated area because we know that even though we may not be able to see mold, it doesn't mean it's not there in small quantities. A portion of the mold we pick up is usually dead, but it is still capable of causing allergic reactions and negative health symptoms in sensitive people.
Fungicide foggers
While some mold contamination is easy to see and access, often mold exists in areas where using sanders or scrapers is impossible. In these cases, we use foggers with a mold-killing fungicide. During the fogging process, the poly sheet barriers we installed earlier will protect humans and pets in adjacent areas from possible harm from the airborne fungicide. The product we use for this aspect of mold removal is called Dizolv, which contains hydrogen peroxide at a highly concentrated level. After use, Dizolv breaks down rapidly and will not cause harm to people or animals. This mold killer is a true eco-friendly product and is part of our commitment to "going green" and having no negative effect on our environment.
Mold remediation with tools
When mold is in areas or on surfaces that our technicians can access easily, we use a variety of tools to physically and safely remove it. Thorough removal of all mold parts including the stems, hyphae, roots and spores is the goal in order to prevent a possible re-contamination at a later time. Physical mold removal involves tools such as heavy wire brushes, powerful electric sanders, grinders and even sand paper. More advanced processes include dry ice blasting and sand blasting. As we've said many times and in many places, mold removal at this level should be performed only by trained, certified specialists. It is not something you can do on your own.
Encapsulating surfaces
After we have successfully removed mold from all the surfaces in the work area, our last task is to seal those surfaces. This process calls for a liquid substance that is similar to paint, only it contains a fungus-killing agent. We apply this fungicide to every surface from which we removed mold as well as surfaces that are close to the formerly contaminated ones. We use a high-power, modified paint sprayer to apply this substance, which can be white, opaque or clear. With this agent in place, we guard against future re-contamination that could result in requiring another complete mold remediation project. Because the encapsulating agent is rather expensive and not easy to apply, some mold companies bypass this critical step. But the money their customers save now may turn into much more money spent later to re-do the job, so make sure any mold company you're considering hiring includes encapsulation in their mold removal work.
Restoration
When all the previous steps have been completed properly, we begin restoring the work area to its original condition. The protective sheets we put up are cleaned with a HEPA vacuum and sprayed with a substance that kills all fungus before we remove them. This prevents any mold spores that might be present from moving into other parts of the structure. Finally, we safely remove the poly sheets from the home or workplace and take them in for recycling.