Mold Inspection Services in Philadelphia & New Jersey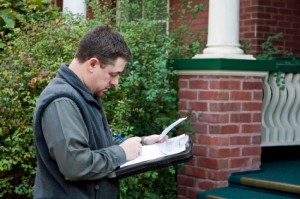 Many methods can be used to inspect for and detect the presence of mold. These methods can be used to find particles of mold in dust, in the air, in dirt, or to identify mold growing on furnishings, building materials, and other surfaces. Some mold inspection or testing methods can identify mold species—the live (or viable) molds in samples. Other mold inspection or testing methods are better able to characterize the total amount of mold in a sample (the non-living portion) but are not suitable for identifying these specific types. Even mold testing that is well done can only provide a partial estimate of the types and amount of mold collected in a sample – or the sampled environment. Certified Eco Tech professionals are available to assess your mold situation and walk you through the decision making process—we're able to determine the best mold testing protocol for your situation and make recommendations based on these conditions.
Why is it Important to Have a Certified Professional Performing Mold inspection or Testing in your Home?
There are specific limitations for each of the available mold testing procedures. Certified mold inspectors are aware of these limitations and will not rely on certain aspects of testing when some of the results can be interpreted in more than one fashion. Unfortunately there are many mold inspection companies out there that will claim to be mold professionals, but lack the proper certifications and training to be able to properly implement and analyze indoor air analysis. Always be sure that the person performing the testing is a Certified Mold Inspector (CMI).
There is some form of mold literally in every home and business in the United States so when actual mold inspection testing is done, it is expected that presence of molds will be found. There is, however, an important distinction between the normal presence of mold particles, versus abnormal accumulations and growths indoors. Normal mold levels found indoors is part of what's called "indoor fungal ecology". When mold concentrations build to unacceptable levels it is known as contamination. When mold is allowed to grow and multiply unchecked, it poses a potential serious health risk and also damages whatever it grows on. When mold growth is visible or mold odors can be smelled, it would indicate that there is a potential problem that should not be tolerated and should be checked out immediately.