Commercial Mold Remediation for New Jersey Businesses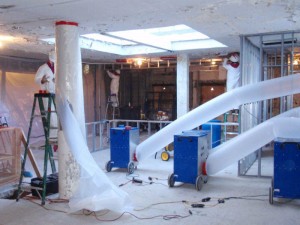 Removing (or "remediating") mold from commercial buildings requires several approaches that are different from the way we go about remediation projects in residences. First, our job in commercial mold remediation services involves being as unobtrusive and discrete as possible so as not to disrupt the flow of our clients' business.
Where possible, Eco Tech's commercial mold remediation services technicians will perform the work after business hours, but sometimes that's not feasible. When we work during business hours, our certified mold removal specialists always operate discretely. It's important to us that our clients' business is not hampered by our presence.
Commercial mold remediation service puts our workers in close contact with mold, which is why they wear protective uniforms. It's critical that field technicians are protected, because they work with levels of mold that have been shown to be hazardous to the health of humans. When we go into a commercial facility dressed this way, it's possible to cause alarm in our clients' customers, so, again, discretion is always foremost in our minds.
In cases where we perform commercial mold remediation services for "9 to 5" businesses, we usually will opt to work after hours or on weekends. Unfortunately this isn't possible if our client operates 24 hours a day. In these cases, we'll sometimes park our service vehicles a little ways away from the facility and possibly enter the building dressed normally, carrying our protective gear to put on once we're out of sight.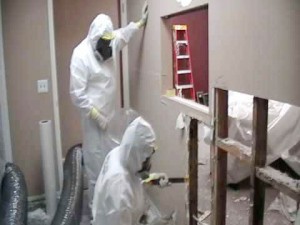 Eco Tech does all this to make sure no negative or fearful ideas are planted in the minds of our clients' customers. The dangers of mold are all over the media, and most people know that mold can be harmful to them. We find our clients appreciate the discretion with which we operate, particularly those in the medical, dental, legal fields and other fields, whose offices often have a smaller and more intimate atmosphere.
Commercial mold remediation services vs. home mold removal
After determining when we'll do the work, we're ready to start the remediation process, which usually is much more involved than projects in private homes.
In commercial mold remediation services, our technicians may have to work with clean rooms, air purifying equipment, HVAC systems, delicate medical equipment and data storage facilities. This makes us particularly careful to not disrupt or harm our surroundings. Our clients are happy to know that every Eco Tech employee who works in their facility has a thorough knowledge of the equipment they'll be working around – before they arrive.
Another difference between commercial and residential mold removal is in the scope of the projects. There's much more involved when performing commercial mold remediation services in, say, a huge department store than in a two-bedroom duplex. However, Eco Tech professionals are just as at home and proficient in a gigantic facility as they are in someone's house.
In large buildings, there are numerous places where mold could exist. Our technicians know where to look, and they know the signs they're looking for. Mold can't always be seen with the human eye, but through meticulous testing, we can find it and get rid of it.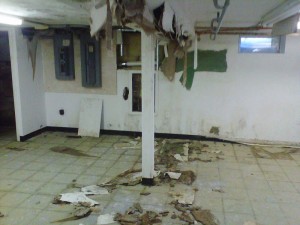 We can also explain to our clients how the mold contamination started in the first place and what to do to keep it from happening again. There are two factors that you can count on to cause mold growth: moisture and improper ventilation. If they can solve those two problems, our clients' facilities can most likely remain mold-free. Commercial mold remediation services can kill and remove the mold, but it will return if clients aren't diligent in controlling moisture and creating good air flow in the contaminated areas.
Is there mold in your commercial facility? Do you think there might be? We'll happy to schedule a thorough mold inspection to find out. If mold is detected, you can rely on our commercial mold remediation services to remove it quickly and safely, and always with discretion. Call (856) 833-1030 to contact an Eco Tech professional today.