Hoarding Clean Up Services for New Jersey and the Philadelphia Metro Area
Eco Tech proudly offers hoarding cleaning services or hoarding clean up services to the Philadelphia Metro and NJ area. Hoarding is a complex and oft misunderstood mental disorder which involves the accumulation of personal materials over time that grows to disrupt the function of a home and its occupants. When a friend or family member realizes that a loved one is beyond their own ability to change their behavior, it is important that a team of professionals be contacted and brought in to help. This team may include social workers, psychologist, friends, family and lastly a company to handle the biohazard aspect of the hoarding cleanup. This team must work together and often work with the affected person to achieve the goal of returning the home to normal and healthy function. According to the National Group on Compulsive Disorganization there are 5 Levels of hoarding. It is important to understand these levels to assess the situation you may be dealing with. Contact Eco Tech for a comprehensive consultation and restoration plan.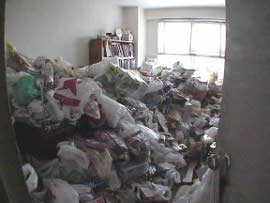 Before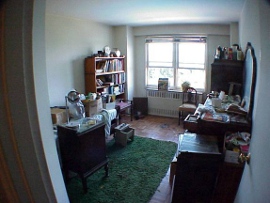 After
Hoarding Level I– This represents a normal healthy indoor living environment with no abnormal collection of personal goods.
Hoarding Level II– This is the first level where a problem is present. Clutter may be present in one or two rooms and there is the beginnings of slight disorganization. Routine maintenance is lacking and there may be an accumulation of trash or food items throughout the home. Low level odor may be present.
Hoarding Level III- Clutter is clearly present throughout the home. Pathways are narrowed due to excessive accumulation of personal property. The exterior of the home shows signs of disorganization and buildup of trash and debris. Food preparation areas are overrun with food debris which may be rotting and exposed. Laundry is built up in many of the rooms with complete lack of organization. Rooms lose the ability to navigate and are difficult to determine prior functionality. Complete lack of housekeeping and maintenance. Smells and odors may be overwhelming. Biohazard begins to build to dangerous levels.
Hoarding Level IV- Damage to floors, walls, furniture and appliances is present from mold, mildew, moisture rot and lack of air flow. Structural damage is possible as floors begin to rot or deflect from the weight of accumulated materials (books, magazines etc). The functionality of rooms is completely lost and navigating from one space to another is extremely difficult. Bathroom and kitchen are no longer fully functional and contain biohazard in the form of rotting food and/or backed up toilets/drains. The home is dangerous to anyone living or visiting.
Hoarding Level V– Biohazard is present throughout the property. Rodent and insect infestation is rampant. Mold and mildew is present throughout the home. The odor can be extreme and not tolerated by most persons. Structural damage and damage to utilities (electric, plumbing, HVAC) is likely. The home has lost all function and will deteriorate beyond salvage without professional intervention.