Serving: Camden, Ocean, Cape May, Salem, Cumberland, Atlantic, Gloucester, and Burlington Counties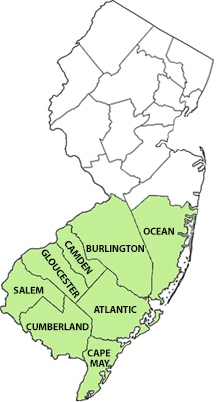 New Jersey residents, the first step toward achieving a mold-free environment is to schedule an appointment with a mold removal specialist. MoldRemovalPhiladelphia.net employees are highly skilled professionals with expertise in mold remediation in the South Jersey area. It is very important to catch and remove mold from your home or business before the contamination spreads. The sooner the mold is removed, the sooner you and your family, or your employees, will avoid the health risks and other serious structural problems to your home or business caused by mold contamination.
Our experts in South Jersey will conduct a thorough examination and provide recommendations on how to remove the mold safely for absolutely no fee. Feel free to ask any questions you may have. Our knowledgeable professionals can address any of your concerns regarding why mold grows, our mold testing and removal practices, how to prevent mold in the future, health risks associate with mold, different types of mold, and more.
If we do detect mold, we can treat the contaminated areas with eco-friendly non-toxic chemicals. To start removing mold from your New Jersey home or business, please fill out the form below to schedule an appointment in South Jersey. MoldRemovalPhiladelphia.net professionals are ready to assist you and will contact you shortly.
Please give us a call at 833-277-3100.