Commercial Mold Inspection and Commercial Mold Testing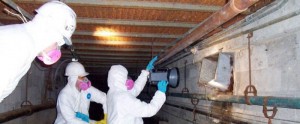 Commercial mold inspection is a serious undertaking. It should only be performed by trained technicians who know where to look for mold and how to determine its volume through precise commercial mold testing procedures.
Because business offices, factories and other facilities are generally much larger than the typical home, commercial mold inspection requires more extensive investigation. Additionally, people who work in these facilities are not usually intimately familiar with all the nooks and crannies where mold can grow and spread, allowing a potentially harmful mold outbreak to go unnoticed.
When performing commercial mold testing, our technicians are aware that mold may be found virtually anywhere – in the air, in dust or dirt, on furniture, on walls and on any other surface. Sometimes mold can be seen, but commercial mold inspection doesn't rely on just the naked eye.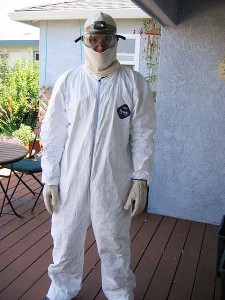 Using state-of-the-art commercial mold testing equipment, a technician can identify a specific species of mold (there are more than 10,000) as well as determine the volume of mold in a sample. When the volume and type of mold are identified, proper steps can then be taken to remove the problem.
Many people don't realize it, but virtually every home and business in America has some mold in it. At very low volume, it is not an urgent concern. Professionals at MoldRemovalPhiladelphia.net who perform commercial mold inspection services know that certain environments are more conducive than others to supporting mold growth. Damp and dark areas are the worst. Left unchecked, a little mold can quickly turn into a lot of mold, creating a serious health risk for people working in the environment.
Commercial mold testing often turns up areas in a facility where water is leaking or where damp items such as cardboard or wood have been stored for long periods of time. A slow water leak creates an ideal habitat for mold to grow, and depending on the volume and location of the leak, people working near it might not even know it exists.
Damp materials, stored and forgotten about, can breed mold fast. Commercial mold inspection technicians are trained to comb every area within a facility – particularly those areas that are "out of sight, out of mind." When mold flourishes, it can become airborne and find its way into ventilation systems, thereby presenting a health hazard for every person in the building.
For years, health professionals have been warning the public of the health risks that can come from high levels of mold. Commercial mold testing includes showing clients how to safeguard their health by preventing recurrences of this dangerous spore. Identified symptoms of mold poisoning in humans include:
A variety of allergic reactions
Asthma attacks in those with asthma
Eye, nose and throat irritations
Sinus congestion
Increased risk for respiratory infections and bronchitis
If you own or manage a commercial building, you should order regular commercial mold inspections. MoldRemovalPhiladelphia.net is a recognized expert in this field and will be happy to arrange a meeting at your facility to discuss how we can rid your environment of mold and make it safer for everyone.